This week we will be sharing our favorite books of 2013. To be honest I don't always read books as they come out (unless I'm waiting on a particular book, or following a series). However I have read quite a few books released this year and earlier. So I'll attempt to keep it short and just list some of the more memorable ones.
Also let me just admit this, honesty is the best policy: I have not had the chance to read as many books this year as I usually do. *gasps* I know it's shameful really, I usually always make the time to read, and will make the time again effective immediately. I hadn't really realized until this post how much I've slacked in the reading department this year. Yikes...anyway, on to the post.
Here's some books released this year I have greatly enjoyed:
What Your Dreams are Telling You by: Cindy McGill
::Description::
Why Waste One-Third of Your Life Only Sleeping?Have you ever wanted to receive wise advice about a business proposal, a relationship or a direction in life? Tonight you will have several dreams. Did you know they could contain the very advice you need?It's true.
Join dream interpreter Cindy McGill as she shows you that sleep is so much more than just a time to rest your body. If you pay attention, you can uncover a secret weapon for success--and the keys to unlocking your full potential.

Not only is it possible to remember your dreams, but when properly interpreted, they bring guidance, hope and strength to achieve what may seem impossible. Here Cindy gives you the tools for discovering and decoding these hidden messages, including

-- how to get the most out of your dreams
-- historical and present-day examples of life-changing dreams
-- common dream themes and what they mean
-- 3 steps to discover the genuine message from your dreams
-- a quick-reference guide to common dream symbols
-- how to reawaken your dream life

Solutions to your problems can come on any given night. It's time to listen to what your dreams are telling you.
I am one of those type of people that (depending upon my dream) will put a lot of thought into any meanings. This book is great at explaining some things which worked well for me. I learned a lot of things I didn't previously know about sleep, dream symbols, dream meanings, etc.
While I do not always pay attention to all my dreams I do pay attention to some because I have had some instances where I've had dreams and then something has happened whether it be good or bad. I always just figured it was my subconscious trying to warn me.
~ ~ ~ ~ ~ ~ ~ ~ ~

Raising Boys by Design by Gregory L Jantz PHD and Michael Gurian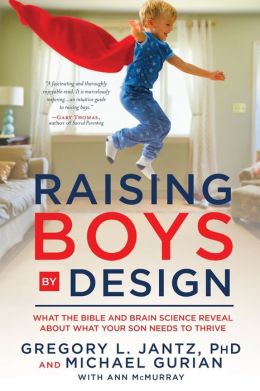 ::Description::
A book about how to help your son become the man God created him to be. Find out what is really going on inside your son's brain and build a HERO who values Honor, Enterprise, Responsibility, and Originality. In this book you will learn how to strengthen your sons character, and overall well being. Find out what your son needs from you and develop healthy thoughts and emotions that fit with his brain chemistry. Questions at the end of each chapter will give you personal insights into your son, and the book overall a deeper understanding of raising and understanding your son.
I have two young boys so I'm always soaking up information on parenting, especially when it comes to boys. No matter what it's always good to know too much rather than nothing at all. I do know that as we are all essentially the same, boys process things differently than girls. They think differently and are just all around wired differently. This was an interesting book to read as a mother to two boys as it explains in depth how to talk to your son about self-discipline, technology, sexuality, education, emotions, etc.
~ ~ ~ ~ ~ ~ ~ ~ ~ ~
Invisible by Ginny L Yttrup
::Description::
Ellyn DeMoss -- chef, café owner, and lover of butter -- is hiding behind her extra weight. But what is she hiding? While Ellyn sees the good in others, she has only condemnation for herself. So when a handsome widower claims he's attracted to Ellyn, she's certain there's something wrong with him.
Sabina Jackson -- tall, slender, and exotic -- left her husband, young adult daughters, and a thriving counseling practice to spend a year in Northern California where she says she's come to heal. But it seems to Ellyn that Sabina's doing more hiding than healing. What's she hiding from? Is it God?
Twila Boaz has come out of hiding and is working to gain back the pounds she lost when her only goal was to disappear. When her eating disorder is triggered again, though she longs to hide, she instead follows God and fights for her own survival. But will she succeed?
As these women's lives intertwine, their eyes open to the glory within each of them as they begin to recognize themselves as being created in God's image.
This book really blew me away. It gave me a whole new perspective and my new favorite words which is the latin words
Imago Dei
(in English it means Image of God). We all have our own personal struggles regardless of life circumstance, wealth, body type, past history, etc. However we are also equally created in the Image of God. We are who he wants us to be. While we can better ourselves and take care of ourselves we should never feel down about who we are because He holds our hand every step of the way and we are never alone.
In addition to the things this book gave me to ponder about I loved the plot. This is a fiction book, very romantic, and lots of characters to keep you busy. I was actually sad to see this book end.
And I am currently reading
Doctor Sleep by Stephen King
. This is his sequel to The Shining so I'm sure I'm going to be on the edge of my seat loving every bit of it. When you want a thrill Stephen King never fails. I did re-read a couple of my favs of his book this year:
Misery & Needful Things both by Stephen King
What have you been reading this year? Any particular favorites you would like to share with the rest of us?