There are many ways we need to factor safety into our children's lives. From teaching them about strangers, baby proofing the house, internet safety, etc., safety topics are unlimited. This week we are each going to be picking a topic to discuss on child safety. My topic will be:
Did you know?

Motor vehicle crashes are the number one cause of death among children ages 1 to 19.
Children ages 2 to 5 who use safety belts prematurely are four times more likely to suffer a serious head injury in a crash than those in child safety seats or booster seats.
Of those children ages 8 and under who died in vehicle crashes in 2011, 29 percent were unrestrained.
Children should ride in the back seat until they are at least 13 years old.
When my first son was born it was only recommended that he sit in a rear facing car seat until he reached a certain weight limit. Once that weight limit was reached forward facing was just fine and dandy. Recently though after a talk with our pediatrician we were informed that it is now recommended to keep your child rear facing for as long as possible, or at least until 2 years of age. Kids who ride in rear-facing seats have the maximum protection for the head, neck and spine.
Here's a video that will show you the difference involving rear facing vs. forward facing in a car accident.
Did you know?
There is an expiration date (usually around six years) on every car seat label?
Make sure you know when the expiration date is so your child is riding around in a safe car seat that is still safe for today's standards. Pay close attention to the weight, age, and height label on the car seat so your getting the right kind of protection for your child.
Here's some other tips that will make your child safer in a car/car seat:
Never leave your child unattended in a vehicle whether in a booster seat, car seat, or other. This should be common sense but all too often I hear on the news about children suffering heatstroke. There's no sense for this. Don't even leave your child in a running car, take them with you. Could you bare to live with yourself if something happened? It's better to be safe than sorry.
Make sure your child is buckled in his/her seat correctly. Buckling up properly is the number one way you can help save your child's life should you ever be in a crash. Never expect that you won't be in a crash. Even if your the safest driver on the planet there are other drivers/cars who are not. Never take the risk.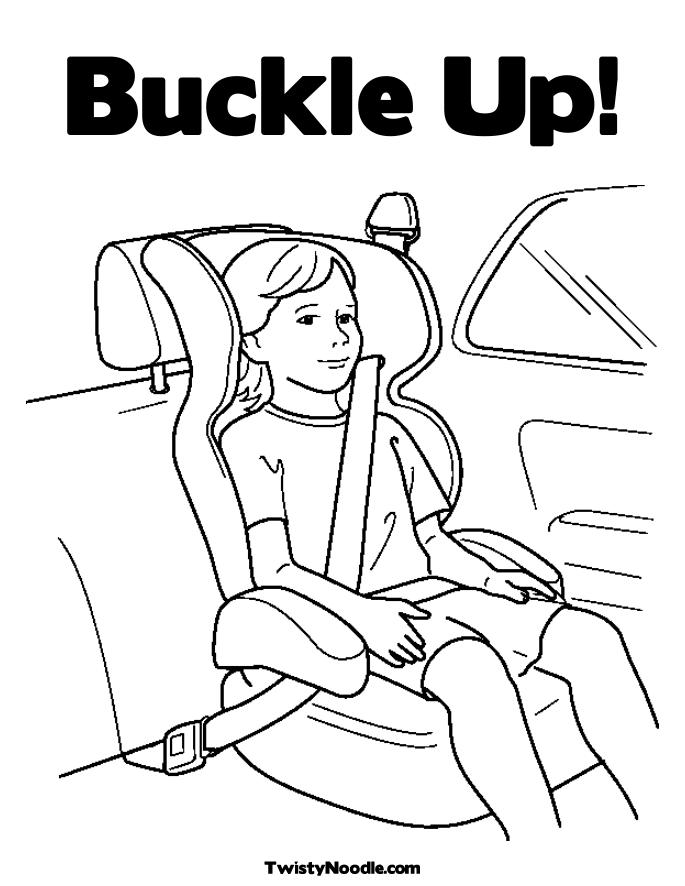 Make sure your child's car seat is installed correctly. Don't be embarrassed if you are unsure whether it is or isn't. Again, it's better to be safe than sorry. Your child's life is more important than your pride. There are so many ways to have your child's car seat checked in this day and age. You can go to your local fire department, police department, and even hospital. Not to mention there are all sorts of programs that inspect car seats to make sure your child is safe.
73% of car seats are not used or installed correctly. That's well over half. Before you hit the road have your car seat checked.
Here's some things to check for::
Inch Test. Once your car seat is installed, give it a good tug at the base where the seat belt goes through it. Can you move it more than an inch side to side or front to back? A properly installed seat will not move more than an inch.
Pinch Test. Make sure the harness is tightly buckled and coming from the correct slots (check your car seat manual). With the chest clip placed at armpit level, pinch the strap at your child's shoulder. If you are unable to pinch any excess webbing, you're good to go.
For both rear- and forward-facing child safety seats, use either the car's seat belt or the lower anchors and for forward-facing, the top tether to lock the car seat in place. Don't use both the lower anchors and seat belt at the same time. They are equally safe- so pick the one that gives you the best fit.
If you are having even the slightest trouble, questions or concerns, certified child passenger safety technicians are able to help or even double check your work. Visit a certified technician to make sure your car seat is properly installed.
Now this one is a biggie:
Don't use a used car seat, and if you have no choice, know the car seat's history. Car seats are expensive yes, but if you don't have the funds for a new car seat check around. There are many programs that will give you a car seat for your child, and you can receive financial assistance in cases. Your hospital's maternity ward, your local fire station, or your local health/family department would be likely to have information to help you along. Make sure to check into them.
If a car seat has been in a car accident it's no longer safe to use. We don't always see the effects that an impact can have on the workings of a car seat. It's best to buy a used one so your child is receiving the maximum protection. Just like if you are in a wreck and your airbags deploy you can't just stuff them back in there. You have to have new ones installed. Be safe and again check around, there are many options available.
Hopefully you've taken something valuable away from this. Just remember when it comes to your kids pride is not an option. If your unsure of something ask someone. And even if you think your sure about something and you've had five kids so your experienced, ask anyway. It won't hurt. Things change all the time, we find new things out everyday. New light is shed constantly on keeping our children safe so you can do your part by keeping up to date with it. Be safe.