Oh my I cannot believe it's time for another post already! Is it just me or are the weeks flying by? I hope you have all been enjoying our blog so far, and we have another great post for you this week. All about books!
I'm gonna talk about a few different genres today and a few of my favorite books. First off let me just start by saying that I love, love, LOVE, to read! I read just about every genre that is out there. In a world full of good books I just can't bear to limit myself! I read cookbooks, historical, romance, christian, fiction, non-fiction, true crime, biography, memoirs, science fiction, young adult, mystery, etc. I just can't bog myself down to one, it's impossible.
Here is my absolute, all time, favorite book: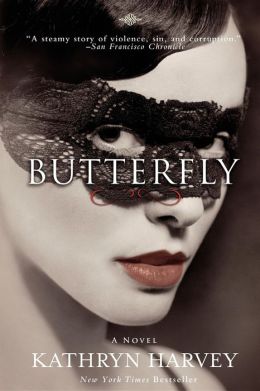 ::From the back of the book::
From New York Times bestselling author Kathryn Harvey comes an arousing, passionate story of three women's hidden desires and the place called Butterfly, where dreams are kept and where fantasies come to life.
Above an exclusive men's store on Rodeo Drive there is a private club called Butterfly, where women are free to act out their secret erotic fantasies. Only the most beautiful and powerful women in Beverly Hills are invited to join: Jessica, a lawyer who longs for the days when men were men, and women dressed to please them; Trudie, a builder who wants a man who will challenge her—all of her—with no holds barred; and Linda, a surgeon, who uses masks to unmask the desires she hides even from herself.
But the most mysterious of them all is the woman who created Butterfly. She has changed her name, her accent, even her face to hide her true identity. And now she is about to reveal everything to realize the dream that has driven her since childhood—the secret obsession that will carry her beyond ecstasy, or destroy her and everyone around her.
While this book has nothing to do with being a mom or anything I do feel that this is a book that is too often overlooked. I fell in love with this book when I first read it. It can get a little explicit so if your uncomfortable reading about that then this isn't the book for you. This is not a
50 Shades of Grey
type of book. This book has a plot, intrigue, desire, sadness, horror, revenge, mystery, etc. It isn't just an erotica book. It mainly focuses on women and their lives. They work through their own personal demons in various ways, and it takes so many twists and turns you won't be able to tell in what direction it is headed. I myself became immersed in the novel after just a few chapters and couldn't put it down. I re-read it at least once a year, as it has become one of my favorites.
Here is a good book on parenting that I love::
::From the back of the book::
One Small Change in How You Love One Big Change in your Kids
Having problems with your kids? What if you are the problem and you just can't see it? How We Love Our Kids offers a unique approach, to help you as a parent transform your kids by making specific changes in how you love. It's the only book specifically for parents that reveals the unseen forces that shape every interaction with your kids.
• Identify which of the five love styles you have.
• Discover the surprising dynamics that shape your parenting.
• Get rid of your "buttons" so your kids can't push them.
• Create a close connection with your kids that will last a lifetime.
• Learn the seven gifts every child needs.
Based on years of research in the area of attachment and bonding, How We Love Our Kids shows parents how to overcome the predictable challenges that arise out of the five love styles and helps parents cultivate a secure, deep connection with a child of any age. Retool your reactions and refocus on how you love. Start today. Watch your kids flourish and thrive as they receive what was missing in your love.
With four self-assessments and powerful application tools to use with children of all ages.
I am always intrigued by parenting books because there really are so many different parenting styles out there. I have tried many and found a few that works for us. What works for one may not work for another, but it's always nice to at least try a few different styles just to see how they fit.
One thing we don't really think about is the fact that sometimes our children's behavior may not be due to them but rather due to us. Not to say that we are dysfunctional or bad parents, but just pointing out that sometimes we need to not only evaluate our children but ourselves.
One thing I have instituted into our household that I got from the book is a list of emotions Towards the beginning of the book Milan's son is upset due to a school incident so Milan has him go to the refrigerator where there is a list of emotions and choose what emotions he is feeling so they can talk about it. We have been doing this since our oldest was 4, we have a list of "emotion faces", which are drawings of various happy, mad, sad, frustrated, silly, etc., faces with the words underneath. When he starts acting out or throws tantrums we will take him to the fridge and have him explain to us how he feels so we can talk about why he is acting the way he is. It doesn't always work right away, but it does have a positive effect for him. It helps him realize that he can talk to us about anything, and how it's a good idea to talk through emotions rather than act out more rashly.
I also loved the fact that the book doesn't really seem as if it is lecturing you but rather speaking to you. Those are always the best kind of parenting books to read. Who wants to sit down and be lectured when your already trying your hardest? LOL
Favorite children's books::
I must admit I am over the moon about Dr. Seuss books. I grew up reading them, and my children are growing up loving them as well. But there's another series of books that I would like to draw some attention too. Many people don't know about them, and they are wonderful teaching tools. That is the Howard B. Wigglebottom series.
Howard B. Wigglebottom books are entertaining educational books. They teach important life lessons to children while helping them learn good from bad, and helping them feel good about themselves. Characters are colorful, and there are many books to choose from, including:
Howard B. Wigglebottom Learns to Listen
Howard B. Wigglebottom Listens to His Heart
Howard B. Wigglebottom Learns About Bullies
Howard B. Wigglebottom Learns About Mud and Rainbows
Howard B. Wigglebottom Learns It's OK to Back Away
Howard B. Wigglebottom and The Monkey on his Back
Howard B. Wigglebottom and the Power of Giving (a Christmas Story)
Howard B. Wigglebottom Learns Too Much of a Good Thing is Bad
Howard B. Wigglebottom Blends in Like Chameleons
Howard B. Wigglebottom Learns About Sportsmanship
Howard B. Wigglebottom Learns About Courage

They help kids learn important lessons about lying, telling the truth, doing what is right, handling bullies, having courage, playing fair, giving, making friends, behaving, etc. They also have a wonderful website with fun games, coloring page print-outs, etc. You can visit it at wedolisten.org
Feel free to share your favorite books. We are all always up for recommendations and hearing what all the other parents are reading out there. There are just too many good books to even possibly get to them all in one post so that's it for me today. Come back on Thursday to see Heather's post, and Saturday for Leslie's.