Keeping kids busy is important on many levels. For one thing when a child gets bored only terrible things will follow: temper tantrums, mischievousness, orneriness, etc. (Trust me we've all been there as a mom and as a child ourselves if you think back). Also by keeping your child busy they will be more active and they will learn.
The key to it is to make sure your child always has something to do. It's even a great idea to plan for many occasions. Below I've included some tips as well as a few pictures of ideas you can use for yourself or see different methods of making each one fun and interactive:
Plan for car trips: Such a bore to kids. As moms, we have to run errands (in my case a lot), and it's no fun for kids. They don't care about paying bills, having to go to the store to get groceries, etc. So me and hubby stocked the back pocket of our car (on the backs of the front seats) with little toys (non-choking hazards), a medium sized notebook, and crayons. This way if we are going to be on the go most of the day the kids have something to do in the car rather than get bored and fight, or grumble in the backseat.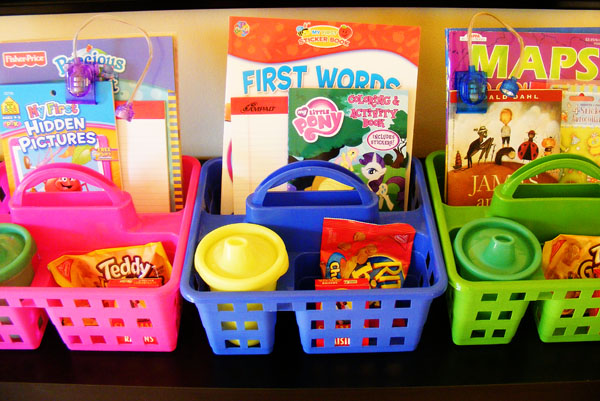 Picture credit: keepinglifecreative.com
This is something we use as well. The baskets can be found usually anywhere at very cheap prices. There's a space for a drink, snacks, and activities.



Free time on a beautiful day? Go outside and enjoy, play with your child, have a picnic, go on a walk. Enjoy the day and have fun. Children need activity with you as well as activities alone. They need to be outside playing in the fresh air. It's good for them and it's good for you too. You can plan a scavenger hunt, inspect nature in your own backyard, look at clouds, play tag, play ball, etc. The list is endless.
Plan for rainy days/days that are not suitable for outside: Kids need activity and days they cannot go outside can put a damper in the day. Things like painting, playing hide and seek, crafts (Pinterest has many ideas if you need some), reading, board games, coloring, etc., are all good ways to keep kids busy and pass time in a fun learning way. If the weather is warm and it's raining given you have raincoats and rain boots playing in the rain is extremely fun for children as well.
Photo credit: sidetrackedsarah.com
Chores: Chores are needed in every child's life. They teach responsibility. One thing people don't realize about chores is that they can be fun. Each chore can count toward a goal, something to earn. You can turn chores into educational fun. Let your child help dry dishes or rinse them and count as you go. There are many possibilities for about every chore there is. You can even make chores into a game. Make a chore chart and have a fun prize at the end whether it's a toy, new coloring book and crayons, a movie, etc., that they are working towards.
Photo credit: theorganizedwife.wordpress.com
You can also let your child watch cartoons (we do so in moderation). Cartoons are not a bad thing if watched in moderation and is something fun and educational. A few good shows we enjoy are Sid the Science Kid, The Cat In The Hat Knows A Lot About That, Word World, Blue's Clue's, Max & Ruby, Diego & Dora, Yo Gabba Gabba, Umizoomi, among others. They are fun educational cartoons. Some TV and cartoons can be fine, but just make sure you aren't parking your child in front of the television all day. Make sure your child stays active, has hobbies, and participates in family interactive activities. If you and your child/ren are tired of the same old activities find some new ones! With the world wide web at our fingertips these days information is right at our fingertips.
Photo credit: nourishinteractive.com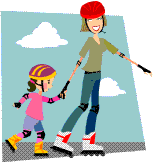 Exercise is also a good way to keep children busy. We do kid friendly yoga, go on walks, etc. Again it's limitless.
Now I'm not saying that all these methods of keeping your child busy will totally eliminate mischievous behavior, tantrums, etc., but it will definitely help matters. Nobody likes to be bored, especially kids. Be active, be a family, and make sure to have plenty of things planned. You will all enjoy it and you will be creating happy memories to last a lifetime.